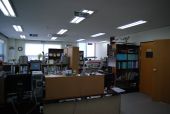 · Lab. Professor : Kyeum Rae cho, Dae Woo Lee
· Lab. TEL : 051-510-3036
· Location : Engineering #12 12206,12206-1
The projects in "Flight Dynamics Laboratory" are largely divided into two fields, guidance/control of aircraft and "guidance/control and mission design" of spacecraft. The research on the guidance and control of aircraft are mainly concerned with "Development of UAV control and relative system". Therefore, "Development of UAV", "Development of Optical Sensor Module for Multi-purpose UAV", "Development of Head/Eye tracker" and "Image acquisition and processing algorithm for UAV" are in progress. "Controller design and analysis of dynamics for coaxial helicopter" is also studied based on previously research about "Control of aircraft" Two main projects are researched in the field of spacecraft. The first one is the research of the spacecraft flight control system for integrated Re-entry phases including all of three phases in Re-entry - "atmospheric re-entry phase, TAEM phase, A/L phase" and this is based on the previously research of "flight control system of re-entry. For the second one, the optimization algorithm for satellite mission scheduling is developed and the Mission/Trajectory planning and control of spacecraft is also the one of main topic in this Laboratory.
Recent Projects
Development of the Image Processing Algorithm for Tracking System and Guidance/Control for UAV
Development of the Optimization Algorithm for Satellite Mission Scheduling
Guidance and Control of an Approach/Landing Phase for a Development of IRFCS(Integrated Re-entry Flight Control System)
Development of Integrated Head/Eye Tracker System
Development of Optical Sensor Module for Multi-purpose UAV
Controller design and Analysis of dynamics for Coaxial Helicopter